Ross Toms, a famous Canadian prospector credited with discovering billions of tons of iron ore in the Ungava region of northern Canada, was a good friend and mentor to Mr. Howard. This page is a tribute to him.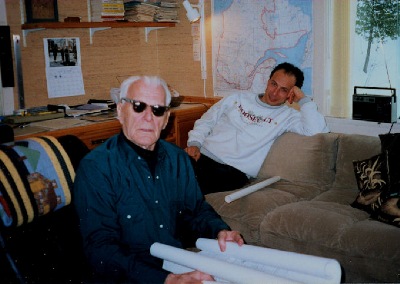 Ross Toms and Avrom Howard in Ross's study, circa 1992.

The following piece written by Mr. Howard originally appeared as a serialized article in THE NORTHERN MINER early in 2001, shortly after Ross passed away.

ROSS TOMS, PROSPECTOR

He was an old prospector with a vision bleared and dim.
He asked me for a grubstake, and the same I gave to him.
He hinted of a hidden trove, and when I made so bold
To question his veracity, this is the tale he told.
(from The Ballad of the Gum-Boot Men, by Robert Service)

Ross Toms walked into my office one day in 1981, straight off the pages of a Robert Service poem. A tall, wiry man with snow white hair, sparkling eyes, a wrinkled trench coat, and that subtle extra bend in the knees as he walked, typical of those who have spent too much time on snowshoes.

"So you're the Ge-ol-ogist", he said, in a voice that simultaneously revealed amusement and annoyance, and seemed to say: "You have no idea how many guys like you I've had to deal with before; you all think you know everything but none of you really do; and if you'll just keep quiet long enough to hear me out you'll see that I might just be onto something".

It was the beginning of a beautiful relationship.

Ross was born in La Scie, Newfoundland, in 1910, and - as he was proud to say, his ancestral patriarch was evicted from Wales and exiled to "The Rock" for crimes related to unwanted advances of a sexual nature, as if this conferred upon him a special stature beyond that reserved to all Newfoundlanders simply by birth. The only childhood story I recall him telling, relates to the plugging of the schoolhouse stove with some potatoes, with the predictable result (smoky kids and a very angry head mistress!). Ross assured me that he was completely innocent, but that such events were not rare!

There's a race of men that don't fit in,
A race that can't stay still;
So they break the hearts of kith and kin,
And they roam the world at will.
They range the field and they rove the flood,
And they climb the mountain's crest;
Theirs is the curse of the gypsy blood,
And they don't know how to rest.
(from The Men That Don't Fit In, by Robert Service)

Ross left home at the age of sixteen, as his oft-repeated story went, and before he did, his father gave him $50 saying: "When you run out of money, you can always come back". He never did. Arriving to Toronto - the inevitable destination for Newfoundlanders even back then, he ended up underground in the tunnel being developed out under Lake Ontario to provide drinking water to the city. I remember him telling me about the horse stalls underground. Eventually, and with his underground experience in hand, he arrived at the Sigma gold mine in Val d'Or, Quebec, where he worked his way from shaftsman to mine captain and became a mining man through and through.

It is here where he met his beautiful wife, Marie, a fact he could never mention without the immediate wisecrack that even though he was a Newfie and a non-practising Protestant, he married a French woman and a Catholic, to boot. Of course, this in turn was immediately followed by the reminder - as if I didn't already know by heart, that marrying Marie was the one and only time he would ever go to Church, alive, the other being when he … and this past November he finally did.

Marie was his match and his foil. On the exterior they appeared as opposites, but underneath I am sure they were great soul mates; their mutual love and respect and admiration was obvious to me from the first time I saw them together, as I'm sure it was to all who knew them. The famous story of their first meeting goes to the effect that Ross and a pal were skiing when they spied two pretty gals, but immediately remarked to one another that they were "too young". Unbeknownst to them, as the story goes – Ross was a great storyteller, have I mentioned that? – Marie and her friend had also noticed the two guys, and similarly remarked to each other that they were "too old". Well, somebody must have changed their mind, because they were married soon after (after Ross argued with the priest, but that's another story).

Perhaps I am stark crazy, but there's none of you too sane;
It's just a little matter of degree.
My hobby is to hunt out gold; it's fortressed in my brain;
It's life and love and wife and home to me.
And I'll strike it, yes, I'll strike it; I've a hunch I cannot fail;
I've a vision, I've a prompting, I've a call;
I hear the hoarse stampeding of an army on my trail,
To the last, the greatest gold camp of them all.
(from The Prospector, by Robert Service)

Ross used to love to tell me anytime anyone questioned the merit of one of his properties, suggesting it might be 'moose pasture': "Sure it's moose pasture", he would say. "What's wrong with moose pasture"? "Every day I used to climb out from the head frame at the Sigma I would look across the road, and there was a big moose in the pasture". Anyway, the notion that there might be other motherlodes out there under the moose pasture got into Ross' head at some point, I don't know exactly when or why, but he decided to become a prospector and moved back to Toronto.

I don't know much about his early years as a prospector, part of which was spent with Fenimore Iron Mines Ltd., but I do know that he eventually got involved with some of the greatest promoters and geologists and mining men of his day, people such as Joe Hershorn, Franc Joubin, and Cyrus Eaton, Sr. One of his favorite stories from this period, essentially a parable on the importance of keeping an open mind (in exploration, that is) was about the time he was down mucking out the glory hole at Elliot Lake on a visit with Franc and Joe, and how Duncan Derry came striding in, hoisted a piece of ore under his studious gaze, then remarked (according to Ross): "Whoever heard of uranium in pyrite"? Ross and Duncan were good friends, and Duncan was a brilliant geologist, and as for Elliot Lake, well, we know much more about uranium in pyrite now (the world famous Elliott Lake mines produced uranium for over twenty five years … from pyrite ore).

By the early fifties Ross was engaged in a singularly bold, innovative and unique prospecting venture of his own design, one which would take him far, far away from home and change his life forever. Grubstaked first by a Toronto lawyer, then by Cyrus Eaton – the great Cleveland industrialist, Ross prospected south of Ungava Bay, and in 1953 he hit it big. Here is an excerpt from a full-page spread that appeared in the March 21, 1953 edition of The Star Weekly:

THE MAN WHO FOUND A NEW IRON EMPIRE: ROSS TOMS AND HIS DARING TEAM OF PROSPECTORS, WITH A RETINUE OF ESKIMOES, STAKED FABULOUS IRON
As motley a crew as ever was armed with prospectors' hammers has found a new iron bonanza in a remote corner of Canada's tundra, where only a handful of whites ever before has dared to venture. The party was made up of eight whites, of almost as many nationalities, plus 55 nomadic Eskimos and their entire retinue of wives, children and aged in-laws. The party leader was Ross Toms, an enterprising prospector with restless feet and a yen for fortune and adventure. Back home in Toronto, frontier-buster Toms recalls three years of incredible hardship while master-minding his unique metal-sleuthing effort. During this time, tents and igloos alternately were his only home, and his sole protection from the unfriendly, sub-Arctic elements.

What he found may prove to be among the world's largest iron mines.

Ross had been gone for many months at a time, with Marie at home alone in an unfamiliar city with two daughters (one born during his absence … there's another story about this, of course), but he came back a hero. In the end, however, it was not to be, sealed by fate as one of the many tales of fortune so close, yet never grasped. As Ross would often tell - never really having totally lost his sense of disappointment, I think (but never showing it), it all came down to a fateful meeting in Montreal between Cyrus Eaton and his partner to be, the German industrial magnate Alfred Krupp. At the very last moment, just before the deal was to be signed, Cyrus Eaton, Sr. demanded a dollar more a ton. According to Ross, Mr. Krupp – ever the Teutonic gentleman, looked at Mr. Eaton, said "thank you", then turned to his aides and said "let's go home".

The iron deposits were never developed, and lie there to this day.

Light up your pipe again, old chum, and sit awhile with me;
I've got to watch the bannock bake – how restful is the air!
You'd little think that we were somewhere north of Sixty-three,
Though where I don't exactly know, and don't precisely care.
The man-size mountains palisade us round on every side;
The river is a-flop with fish, and ripples silver-clear;
The midnight sunshine brims yon cleft – we think it's the Divide;
We'll get there in a month, maybe, or maybe in a year.
(from While the Bannock Bakes, by Robert Service)

But life goes on, and so did Ross. Prospecting by converted World War II patrol boat, by dog team, by helicopter, by Norseman – wait, there are a couple of great stories here. The first is about the time the clouds came in and they were running out of gas, when the pilot said to Ross: "Well, Mr. Toms, you'd better say your prayers". "I can't", Ross would delight in telling me he responded, "I don't know any". "You'd better say yours instead". The story was all in the telling, of course, and Ross was a master. The second, was about the time a drill camp needed a box of drill bits during break up, and the plane couldn't land, so Ross radioed that they would circle low and drop them out the window at a point near the camp … by the outhouse. Need I continue? But the way Ross would tell it, well, that made all the difference in the world, no matter how many times I heard it (a lot). Then there was the time he met Fidel Castro's brother while prospecting in Cuba just before the revolution …

Ross went on to play a part in many other famous Canadian exploration plays, among them the Joan Beetz uranium, and Casa Berardi gold rushes. Riding the volatile waves of the mining industry, he surfed from commodity to commodity and province to province, heading back up to the "Port" as often as he could, his and Marie's beautiful home on the shores of Lake of Bays, a few hours north of Toronto, where many famous parties were held. Where paperbacks and rocks and maps were scattered about; where bone harpoons and caribou antlers hung on pine paneled walls; where the most comfortable sofas in the world filled the living room; and where a legion of weird and wonderful Eskimo carvings sat on a fantastic stone fireplace, the likes of which I have never seen anywhere else, mute witnesses to it all. And where a little sign above the toilet in the bathroom read: "We aim to please; you aim, too, please".

By the time I met Ross he was well into his seventies, still going strong. I couldn't believe this old guy humping it over the La Cloche hills along the north shore of Lake Huron, right behind me all the way as if he were fifty years younger. Every day he would find a new spring and fill his thermos with its water for us to mix with our scotch in the evening, in front of a big fire, while I would listen to his many stories for the first, but definitely not the last, time. I remember going up to see him at Port during the winter, not many years ago – he was well into his eighties by then, when upon arriving in the snow I found the door open and no one home. Seeing some snow cascade off the roof I looked up and there he was, roped to the chimney, shoveling, with a big grin on his face like a schoolboy who knew he shouldn't be doing what he was, but was having so much fun that he didn't care.

In addition to his countless stories, superbly told, Ross had his own inimitable collection of sayings and terms. Here is a brief list:

"My son, in this business it's not what you know, it's who you know." Oft-repeated, it remains sadly true.

"What'd that guy ever find"? This was Ross's predictable comment upon leaving the office of a big company geologist who had declined one of Ross's project ideas, or even worse, criticized it (you can guess the answer).

"… or some damn thing" was a versatile phrase, attached to the end of just about any sentence. A kind of catch all, or some damn thing.

"Heartstarter" - a concoction of any variety of readily available alcohol and mix, a lot and a little, respectively, ideally administered first thing in the morning upon arriving downstairs to the kitchen at Port, no matter how hung over from the night before, where Ross was usually bouncing around busily preparing his first batch of perfectly round pancakes. "By Jeezus, let me get you a heartstarter" is how it usually went.

"Europeeners" – people from Europe.

Ross was intelligent, stubborn, entertaining, free thinking, sensitive, clever, as quick with a rejoinder as I've ever seen, and a gentleman of the type whose age has sadly passed. To me, he was part grandfather, part mentor, part business associate, but always a complete friend. I am tremendously fortunate to have known him. Oh, and there's one more thing: He was a great storyteller.

Men of the High North, fierce mountains love you,
Proud rivers leap when you ride on their breast.
See, the austere sky, pensive above you,
Dons all her jewels to smile on your rest.
Children of Freedom, scornful of frontiers,
We who are weaklings honor your worth.
Lords of the wilderness, Princes of Pioneers,
Let's have a rouse that will ring round the earth.
(from Men of the High North, by Robert Service)

Ross passed away on November 10, 2000. His ashes are interred in the Toms family plot at Port Cunnington, overlooking Lake of Bays and just down the road from his beloved home, the Port. His wife, Marie, passed away several years later. Her ashes are interred next to his.

Ross up in the arctic sometime during the 1950's.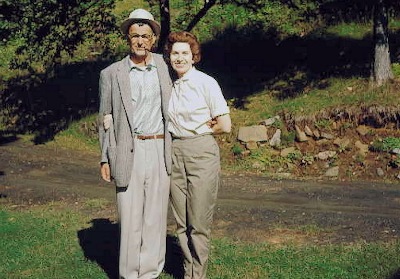 Ross and Marie, sometime during the 1960's.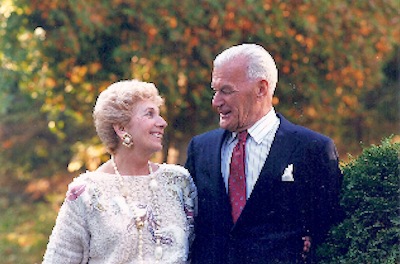 Ross and Marie in the mid-90's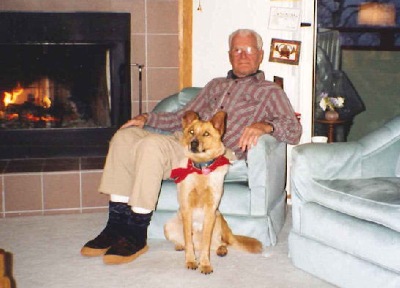 Ross and Avrom's dog, Gypsy, 1998.